<Front Page> <Diana's Blue Moon Cafe™>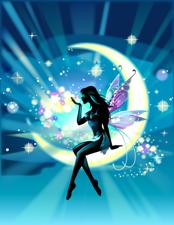 Diana's Blue Moon Cafe™ ...
(copyright © 2012 by Towne Square America™)
Diana's Blue Moon Cafe™ is just across from the bandstand, on the north west corner of Towne Square America™ by the Old Time Drug Store (that has a vintage soda fountain). "Step back in time" at the Blue Moon Cafe™, a wistful haven with a quaint counter and roomy tables ... just like something right out of "Atlas Shrugged" ... even John Galt enjoys the "edible works of art" at the Blue Moon Cafe™. There is never any rush (except to fill orders). The food is Sprout-licious! You won't find the likes of what the "fast food" boys shovel your way either. Only "loaded with sprouts," healthy sensations. You can always find a very cozy spot at the Blue Moon Cafe™, with great, friendly service and lip-smacking, mouthwatering fare ... individually prepared to make your heart dance and your soul sing!
---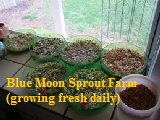 Diana's Blue Moon Cafe™ uses an abundance of sprouts to enhance and accent the food. A wide variety of sprouts are featured on the "point & click" menu below (click on the photos for closer "Sprouts Eye" views)! And, a special non-edible, Origami "treat" awaits you at each table (and the counter) ... which is yours to take with you!

The staff is Diana - Chef, Table Setter, and Server; Linda - Server, Ombudswoman, and "Eagle Eye" Cashier; and and Bil. - Chef, Sprout "Herder" & Cultivator, Purveyor of Panache (and Origami), and, sometimes, Singing Waiter (mostly at the counter!).

<NOTE: If you want to know more about sprouts, why they are so good for you, and/or even how to grow them, then visit the area of Towne Square America™ (on the other side of the Band Stand) to read "Eat Your Sprouts!">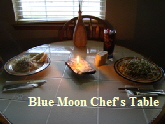 The Blue Moon Cafe™ staff can tweak anything on the menu of elegant delights ... also, please note that there are no "Breakfast," "Brunch," "Lunch," or "Dinner" menu items ... that's because you can order anything you want, any time you want it (we take "Special Requests," too).
Diana's Blue Moon Cafe™ Menu
Grapefruit & Pineapple with Strawberries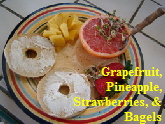 This is the way to start your day ... bagels with cream cheese, served with pineapple, strawberries and grapefruit. We even top off the grapefruit with sprouts that include sunflowers, lentils, and alfalfa ... you won't believe how well the sprouts accent the fruit! We prepare more of these plates "to go," because they have become so popular. So much so, that try as we will, we still run out of the "ingredients" for this most popular menu item. As the seasons change, we adapt the setting to include whatever we can get in the way of fruit. But, rest assured, we never, ever, as in NEVER, use dried or canned fruit ... no way, no how. It's all gotta be fresh as fresh can be ... or we just don't offer it.
This is no ordinary omelet, served with toasted bagels and cream cheese (or butter, real butter). This egg white omelet is loaded with sprouts of Lentils, Alfalfa, Clover (red and green), Arugula, Cress, Radish, Fenugreek, Dill, and Garlic. Chopped fresh Parsley is sprinkled in, along with sun-dried, organic seasonings of Garlic, Onion, Salt, Carrots, Tomato, Orange Peel, Lemon Peel, and many other delightfully tasty and delicious herbs and spices (hey, we can't give away our entire "secret formula!") Diced Red Onions, chopped Olives, and melted cheese are also "added in." You can't go wrong with perennial favorite that can even be "scrambled fer ya!"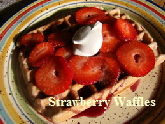 "Outstanding" is the only way to describe this enchanting mix of whole wheat waffles topped with strawberries and just a dollop of whip cream. We only use the freshest of fresh strawberries, so you can't get this delectable treat all year long. Howsoever, be that as it may and wherefore (hereto even), we use whatever fruit is in season for these waffles. These are the waffles you've been looking for (and dreaming about). They are perfectly done and have the most heavenly "crunch" with each bite. One should be enough, but we know how to "rack 'em, stack 'em, and pack 'em," so whatever your heart desires ... we will make your waffle wishes come true!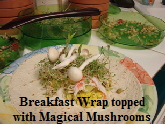 Forget about Breakfast Tacos or any other "wraps," because this one comes directly from Heaven, folks! That's right ... this concoction is a "devourable creation" of scrambled eggs, crab (or just about any other "stuff" you want included), and sprouts that include Mung Beans, Lentils, Pea Shoots, Alfalfa, Broccoli, Kale, Mustard, Cabbage, and a whole lot more. We warm the tortilla so everything gets "all wrapped up" toasty warm, ready for you. Served with hot (or cold) herbal tea, this is truly a great way to start your day. We can also "mix it all up" in a scrambled egg delight. This is definitely a breakfast treat you'll talk about and definitely come back for!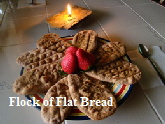 This is the perfect "meal" when you have no idea what you want, but you still feel like "munching on something." You can order just a "few of the flock" or whatever you want of this whole wheat Flat Bread. We make it fresh every day with herbs, olive oil, and sesame seeds to give it some added crunch. By starting out with just a "few of the flock," you can then decide you'd like something else from the Blue Moon Cafe™'s menu to "stuff into your breadbasket" so to speak. The Flock of Flat Bread is our most popular "to go" menu item, because once you've munch on it, you just gotta have more ... and more ... and more.
Can't Be Beat, Whole Wheat Bread Sticks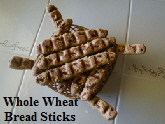 There are bread sticks and there are bread sticks ... and then there are our famous Blue Moon Cafe™ can't be beat, whole wheat bread sticks. We'll even give you the recipe for these easy to make yourself dandies ... so you can have 'em any time you want 'em. One cup of whole wheat flour, a pinch of salt, a dash of sugar, some olive oil "sprinkled in," two teaspoons of yeast, 1/3 cup of water, sesame seeds, and seasonings ... that's all you need. Then you "grill 'em" (we use the George Foreman Grill) and in no time you'll have 16 of the most tasty bread sticks you've ever eaten. Or, you can just come to the Blue Moon Cafe™ and get 'em - for here or to go.
Dark Side of the Moon Cupcakes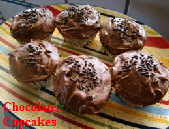 Okay, we'll admit right off the bat that this is a sinfully, wonderful, decadent, caloric temptation! But, it is worth the indulgence, because we're only talking 135 calories, folks. We only make one kind of desert at the Blue Moon Cafe™ and this is it. And, we put everything in the way of wickedly wonderful taste sensations into this all chocolate delight. It's all made fresh every day (there are never any of these "left over" and, to be honest, no matter how many we make, we always run out at some point in the dinner hour. We can, of course, "put your name" on a few to save them for you, but you'll have to call ahead ... and, if you're late getting here to snarfle 'em down, well, don't worry, they will go to the "next highest bidder!"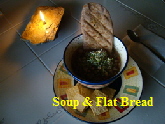 In the mood for soup? Well, this is just what you want, along with some of our whole wheat Flat Bread ... or you can order a whole Flock of Flat Bread to go with it. We provide crackers, too. And, of course, we throw in a whole bunch of sprouts and other seasonings to make this a soup you'll absolutely love ... one you'll "come back for more" and most certainly dream about. We make this soup fresh every day and, well, no matter how much we make, we always run out at some point, so if you want to be sure you get in on the soup, either get here early or call ahead to make sure we save enough for you (and/or your friends).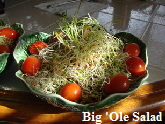 This is a bowl full of chopped up veggies, loaded & topped with sprouts of all kinds, including "just a touch" of Wheat Grass (which is much, much more tasty than "drinking the stuff!") to top everything off. Fresh Cherry Tomatoes "ring the bowl" to round things out in this savory salad that will definitely "fill ya up!" We carefully mix in an abundance of more than thirty different kinds of sprouts for this one. You go with Lemon Wedges or dressing ... whichever you like. We have a lot of people who forego the wedges or dressing and just sprinkle (well, it is more like "dusting") this salad with our organic seasonings. No matter how you "dress it," this salad is a winner!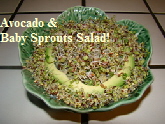 This is one of the Blue Moon Cafe™'s most popular offerings ... and, it is what we run out of first (usually for lack of Avocados which we try to "stock to the rafters"). We don't run out that often, but, just to be sure, call ahead to make sure we have enough of the "green stuff" for you. Built on a mound of chopped up veggies (carrots, broccoli, green onions, black olives, red cabbage, cucumber, corn, artichoke hearts, parsley, and celery), this salad is ringed by finely sliced avocado. Then we "lop in" in scoops of baby sprouts that are tasty as tasty can be. We sprinkle on black pepper and our famous, never-to-be-overlooked organic seasonings to top (and accent) things off.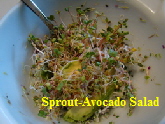 This salad is similar to the one above, only we use more "grown up" sprouts, including Lentils that lend to a Spec-danged-tacular look! We also "mix in" the Avocado, instead of "ringing it around the edges." This is the exact same kind of sprouts and seasonings as the one above, but you'll notice a much different and more "zingy" taste in the sprouts that have matured beyond the baby sprouts stage. Both very tasty and delicious in their own way. It all comes down to a matter of taste. And, of course, variety is what "adds to the mix" to make either salad an absolute joy to devour. We serve this in a bigger bowl so you truly "stir things up!"
Bil.s Sproutrageous Fresh Crab San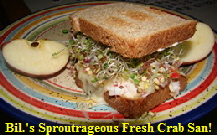 If you're looking for the sandwich of all sandwiches, THIS IS IT! While this one is built on crab, we can easily "throw in" ham, roast beef, turkey, or just about any other meat combo. You also get apple wedges with this! The sprouts include Alfalfa, Radish, Mustard, Fenugreek, Dill, Arugula, Cress, Clover, Buckwheat Lettuce, Broccoli, Sesame, Celery, and more. We also melt cheese into the crab (or whatever "fixin's" you want included). The whole wheat bread is toasted ... or not ... or as you like. All menu items are custom made exactly, precisely, perfectly, and unerringly to your "specifications" ... or we can surprise you with whatever might happen!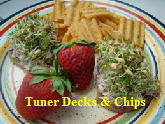 You can order just a "half a san" or one or two or ten or a hundred ... this is a tuna (or, as we call it "Tuner") deck (some would use the word "sandwich," we suppose) that you will definitely be "back for!" We take toasted, "made that day," whole wheat flat bread and smother it with tasty tuner. Then we top it off with a "ton-a-sprouts" (not really a "ton," but you get the idea). It depends on the season just which kind of fruit we'll "add in," but you'll be happy with whatever "ends up on your plate." Added in are Sun Chips and you have a meal that "fits" - day or night. You just can't beat this "deck & chips" for something that "hits the spot!" (even if you don't know what you want!)
Veggie Burger Smothered in Sprouts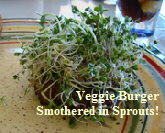 So, you're somewhat in the mood for adifferent kind of burger ... one that is actually good for you! Well, at the Blue Moon Cafe, we have something you're going to crave many times over once you're tried it. This Veggie Burger is full of flavor, plus we put over two inches worth of sprouts on top of the whole deal! We're talking Sprouts to knock your socks off - Cabbage (red and green), Broccoli, Daikon Radish, Oriental Mustard, Kale (Red Russian, no less), Mizuna, Tatsoi, and even Turnips. You'll have so many "Micro-Greens" and Muciloginous Antioxidants coursing through your body like never before ... all while you are savoring every single bite of this farfical, trenticulus, punticular, spectacular sproutable "bill of fare."
Avocado Sproutical Maximus Onion Sword Openface San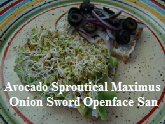 You can eat this one in "halves," or even "cut it with a fork." But, if you're really brave, as most people who devour this work of sprout art, you'll carefully "put it together" and eat it ... without ever setting it down. The reason for that is because this "San" is "spring-loaded" with over half an inch of sprouts (baby and "full grown" ones of just about every kind of variety you can imagine) piled high on half of an Avocado "slivered" just right. The "Swords" of Onions and "Shields" of Olives just add to the succulent scrumptiousness that is a uniquely distinguishable "San" you'll want to try over and over again ... oh, yea, and, as with all of our flavorsome creations, we can custom build this ... you just can't go wrong with this one no matter how we slice it!
Perfect Personal Pizza (AKA the PPP Special)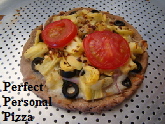 It wasn't our idea to use the word "perfect" in describing this pizza. That's just what everyone calls this "just the right size" for individuals pizza. You decide what you want on it ... for this one, which is our most popular "configuration," we start with three types of cheese on this whole wheat pizza. Then we put artichokes, sliced red onions, broccoli, black olives, spices, and pineapple ... all topped off with fresh tomatoes! We hand make the pizza dough (that includes sesame seeds and olive oil). It does take a little longer to get this order, because each one is fresh baked once you order it. However, you can call ahead so your pizza will be "ready to go" when you get here!
Old Fashioned Hot Beef Sandwich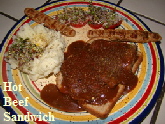 This is the hot beef sandwich you've been dreaming about, wondering if anyone still offered such a mouth watering plate. The leanest of slices of roast beef rest on whole wheat bread, smothered in home made gravy that you just won't believe how good it is with each mouthful. Of course, there are mashed potatoes, fresh made. And, we "round things out" with slices of tomato covered with sprouts. And, if that isn't enough, we even throw in our freshly made whole wheat, can't be beat bread sticks. We have many people who swear this hot beef sandwich is better than what "mom used to make!" You'll just have to try it yourself and see (and enjoy).
Moon Baked Chicken with Grilled Flat Bread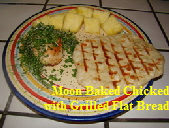 From the warmth and glow of a new or full/fool (or even blue) moon, this dish will charm you in more ways than you could ever imagine ... the least of which is the succulent flavors enchanting your taste buds! The chicken, having basked and then baked in an olive oil, herb sauce, is topped with an incredible variety of the freshest of fresh sprouts ... and, as if that isn't enough, we accent it all with wonderful chunks of pineapple. The flat bread is still warm, having been smothered in olive oil while grilling. It is hard to decide which is better ... the heavenly aroma bombarding your senses or the sinfully tasty sensations. Anything else to go with this meal, well, just isn't necessary at all!
Pasta Handkerchief with Zesto-Pesto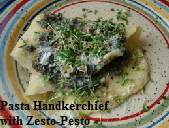 Also known as "Fazzoletti Pasta," this "hankerchief," made fresh daily, is folded over quite neatly (well, as neatly as possible with pasta, folks!) and topped with a Zesto-Pesto sauce made of Olive Oil, Garlic, Parsley, LOTS of Sprouts, "other stuff,"and, of course, parmesan cheese. For anyone who thinks this might not be enough, know that many before you who ordered two helpings, just couldn't finish it all (no matter how terrific it is)! This is like no other pasta you have had. Those who keep "coming back for more" say it is simply the "best pesto pasta" they've ever had with taste sensations they just can't quite get enough of! Order it just once and then you can decide for yourself as this dish most definitely "speaks for itself."
Sproutious Extravaganzious Saladious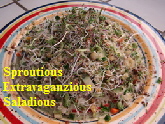 People have dreams about this amazing and enchanting Sprout Salad. We start by "building" a small mountain of carrots, broccoli, green onions, black olives, red cabbage, cucumber, corn, artichoke hearts, parsley, and celery. Then we "throw in" a Sprout-OH-MY-OH-Rama, if you will! This one has the largest combination of sprouts that include Lentils, Sun Flowers, and Pea Shoots (one of the most tasty delights we offer). And, while this salad might have a pasta look to it, all of those "white strands" you see are just part of the Sprout Cacophony that definitely adds a artistical, poetic touch that warrants the name Sproutious Extravaganzious Saladious!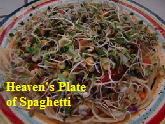 Conceived and created in the bluish hue of a full moon (and originally served only during full/fool moons), this is one of our most "asked for" daily phenomenons. The spaghetti is beyond perfection topped with just the right amount of marinara sauce, Then, we find the most dazzling Pea Shoots (they're among the most dramatic looking sprouts, just like Lentils and Mung Beans) and Sun Flower Sprouts. We add in lots and lots of chopped veggies, along with an abundance of even more sprouts. We add into this edible "meal portrait" splashes dashes of Organic Seasonings, Black Pepper, sprouts, sprouts, and a whole lot more sprouts.
Sunday Chicken Sprout Spectacular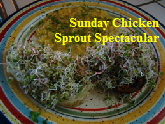 Though it is a perfect "fit" for the "best of the best" Sunday Dinners, you can enjoy this Sprout Spectacular any time you like - day or night. We start by hickory barbecuing the chicken ... yes, barbecuing ... not baking or frying or roasting. The flames of the barbecue slowly dance up, around, and on the chicken, sealing in the lip-smacking flavors ... especially with all of the organic herbs we "throw in" for good measure. There is a baked potato and cream corn to make this meal a taste sensation and visual delight. It is a plate full with Radish, Mustard, Broccoli, Cabbage, Arugula, Tatsoi, Kale, Alfalfa, Cress, Lentil, and Pea Shoot Sprouts!
Pasta and Sprouts ... Absolutely Fabulous!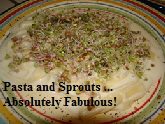 "Absolutely Fabulous" is the only way to describe Pasta and Sprouts - while you are eating it, afterwards, and even when you dream about the sinfully, most wonderful taste sensations this offers. It is like no pasta dish you've ever had. Although, our Heaven's Plate of Spaghetti is in the same league! The Baby Sprouts, mixed in with an lots of other sprouts, makes this dish of Alfredo so astoundingly and marvelously, stupendously, staggeringly mind-blowing. That is quite merely an understatement as to what to expect with this "twirling your fork" dish of something they surely must serve only to "special people" when you reach the Pearly Gates!